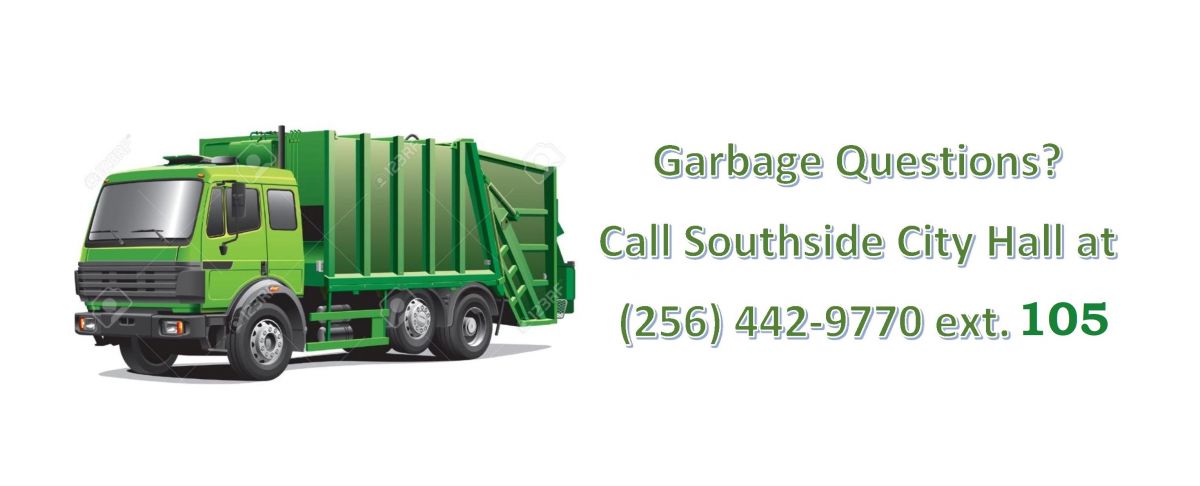 In October 2020, Waste Management announced its aquisition of Advanced Disposal. Waste Management now holds the garbage collection contract with the City of Southside.
While Southside Water Works and Sewer Board collects payment for garbage services, all garbage-related concerns will be directed to
Southside City Hall at (256)442-9770 ext. 105
An alternate garbage contact is Waste Management @ (800)333-7736 / midsouthcs@wm.com
Waste Management will observe the following SIX holidays ONLY
New Years Day Memorial Day Independence Day
Labor Day Thanksgiving Day Christmas Day
**Waste Management will not collect garbage on the six holidays listed above but will run one day behind.**
***It is unlawful to leave your garbage on the right-of-way more than 24 hours prior to your garbage being picked up or to leave your garbage cans on the right-of-way for more than 24 hours after the garbage has been collected. It is unlawful to have a roadside garbage containment receptacle on the city right-of-way. Ordinance #0-006-2018 as adopted 11-13-2018.***
****There is a $5.00 charge for each additional can requested.****
*****The garbage container provided to you by Waste Management should remain at the residence if you move.*****
All new constructions will have to call personally to receive their first garbage can.
See a list of pick up days here.
See City of Southside Garbage Rate Announcement for April 2020 here.