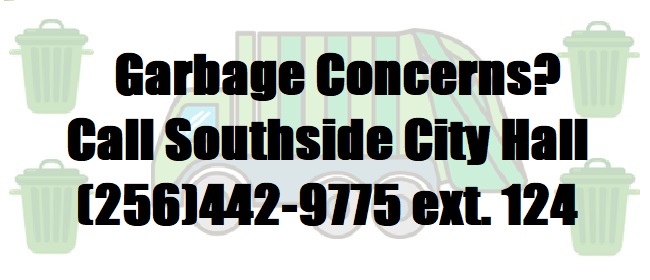 Begining January 2, 2023, the City of Southside will begin collecting garbage. New City of Southside containers are being delivered beginning in November 2022. Residents must wait until January 2, 2023 to use their new containers.
See the November 2022 Garbage Pickup Announcement from the City of Southside here.
*Note: Southside Water Works is not responsible for garbage collection, can requests, pricing, or any other garbage concerns. Payments collected for garbage services through SSWW are remitted to the City. All current and future garbage-related concerns will be directed to contact Southside City Hall at (256)442-9775 or sanitation@cityofsouthside.com.
Trash Collection Services through City of Southside will observe the following holidays ONLY:
New Years Day Martin Luther King Day Memorial Day Good Friday
Independence Day Labor Day Veteran's Day Thanksgiving Christmas
**Expect a one-day delay in trash pickup on these holiday weeks.**
***It is unlawful to leave your garbage on the right-of-way more than 24 hours prior to your garbage being picked up or to leave your garbage cans on the right-of-way for more than 24 hours after the garbage has been collected. It is unlawful to have a roadside garbage containment receptacle on the city right-of-way. Ordinance #0-006-2018 as adopted 11-13-2018.***
****There is a $5.00 charge for each additional can requested.****
*****The garbage container provided to you by the City of Southside should remain at the residence if you move.*****
All new constructions will have to call personally to receive their first garbage can.
See a list of pick up days here.